Testing, testing, 1,2,3 ...
Ok, show a little, not too much as yet, ok? Now, announce softly ...
News, News!
small news ...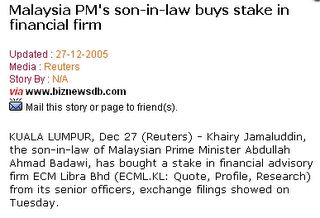 Khairy Jamaluddin, the son-in-law of Malaysian Prime Minister Abdullah Ahmad Badawi, paid $9.2million for a 3% stake (13 million shares) in ECM Libra Bhd.
A day passed ....
Is it OK? Any Pandemonium, Razzmatazz, or Obstreperous person blarring???
Not yet sir, not yet!
Ok,Ok! rest a while ... continue to observe ... let's see how to pour in the balance ...
But sir, if we do it this size, it will need another 100 rounds ...