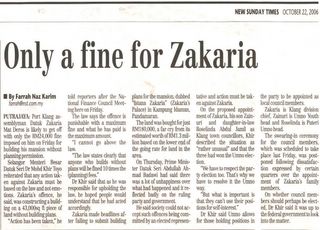 MB Mohd Khir Toyo reiterate that any action against Zakaria must be based on the law and not emotions.
Zakaria's offence, he said was constructing a building on a piece of land without building plan.
The law says the offence is punishable with a maximum fine of 10 times the fees ($24,000).
"I cannot go above the law," Khir said.
Second councillor builds mansion without approval
Another Selangor municipal councillor has been found to be building a mansion without getting approval from the Klang Municipal Council (MPK). Mazlynoor Abdul Latiff's mansion at Kampung Raja Uda along Jalan Lengkungan is about 80% completed and resembles the controversial four-storey mansion built by Port Klang assemblyman Datuk Zakaria Md Deros. It is understood that both mansions are being built at about the same time using Javanese masons and are now near completion.
When contacted by The Star, Mazlynoor claimed that other councillors had also built mansions within the area without building plans. "So, you visited the area. You took a lot of photographs. No reason for you to highlight the matter. Everyone is doing it, but my house is small," he said.
Mazlynoor said: "I submitted the plan to MPK but it was returned to me as it did not conform to the sewerage infrastructure. As it involved costs, I went ahead with the construction. I will submit the plans after Hari Raya," he said.
So, Mr Khir Toyo, all your councillors also do not submit plans. This is what is claimed by Mazlynoor. Is it semua OK?
Are you going to say again, that the law says fined them RM24,000? Is that all? That all your councillors don't have to follow procedures and regulations and just pay the fine, and semua OK?
Oh Malaysians, since precedence had been set by the government officials, all of us can go ahead and built houses without the need to submit plans to the authorities and if they harass you, just be prepared to pay the fines; it's small in comparison with the hassle you had to go through the bureaucratic norms. If the enforcement officers harass you, tell them Mr Khir Toyo said that the law says so. If the executives can do it, all citizens can do it. So, Malaysians, you built set up massage parlour, prostitute dens, gambling house, discos and karaokes anywhere, everywhere, as the law says you will be fined only; Khir Toyo confirms it...he is the Menteri Besar of Selangor; the Head of the State and he says semua OK.
MPK president Abdul Bakir Zin confirmed yesterday that Mazlynoor had not submitted plans for the construction of the mansion. "It's a clear defiance of the Town and Country Planning Act 1974 and a fine will be imposed when he submits the plan," he said.
"MPK will investigate how the mansion came to be built up to this stage without the enforcement or planning department imposing a stop-work order or even alerting me. Work should not have gone on until plans submitted are approved. "It is time the council stopped the rot as it will shatter people's confidence," MPK president said.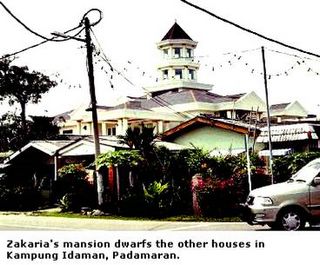 Oh, by the way, didn't UMNO and Khairy said the Malays were MARGINALISED? Are they? Can UMNO explain why these Malays are so exceptionally rich? Kena Lottery kah? Oh, itu haram...mesti bukan. Kena NEP kah? Oh itu bukan juga kerana NEP ada lah untuk orang Melayu yang miskin. Tetapi yang tak miskin jadi lebih kaya; yang miskin tetap miskin? Oh, NEP belum cukup lagi.
Update: Sorry, bukan makan tak cukup; Makan tak boleh cukup. NEP tambah lagi 30 tahun.