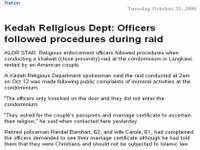 Kedah Religious Dept: Officers followed procedures during raid
Religious enforcement officers followed procedures when conducting a khalwat (close proximity) raid at the condominium in Langkawi rented by an American couple, Randal Barnhart, 62, and wife Carole, 61.

A Kedah Religious Department spokesman said the raid conducted at 2am on Oct 12 was made following public complaints of immoral activities at the condominium.

"They asked for the couple's passports and marriage certificate to ascertain their religion," he said when contacted here yesterday.

Tourism Miniser Datuk Seri Tengku Adnan Tengku Mansor does not like things like this happening to tourists as it spoils the country's image.

Whenever an incident like this happens, Malaysians are damn good to justify their actions. They just can't do wrong. Just like Zakaria's case, Klang UMNO believed Zakaria did not do anything wrong at all; he just didn't comply to the rules and regulations and the statutory law; to them, he did no wrong.

Here, the religious department said they did no wrong. Someone complaint and they act; at midnight 2am? So, if anyone who wanted some fun made a complain to them, irrespectively, they would just act. Are they brainless enforcers? Can't they check it out first? I'm sure the condominium is a resort and there are surely resort management personels who could provide information to clarify. That man is a "White" and even if he is a Muslim, he is a foreigner and is not subjected to the Malaysian Syariah Law. Malaysian Syariah Law is not an International Law that can bind foreigners unless the foreigners had done acts that had violated the statutory provisions such as acts that are criminal in nature, or acts that are against public order. Equally, the enforcers request to view marriage certificate is ridiculous and frivolous...which tourist travelling overseas for holiday would have brought along their marriage certificate? That's a holiday resort and you don't expect tourist to bring along their marriage certificate, isn't it?

Yet, the department felt justified...maybe, it's Islam Hadhari... It's not in accordance with the Islam elucidated in the Quran.

So, if anyone wanted some fun or wanted to cause nuisance, they just make calls to the religious department, and the enforcers will be there, particularly at midnight... midnight????

Oh, BTW, had anybody forgotten an incident in Port Dickson where a senior minister was found with a girlfriend in a resort hotel? Didn't the religious enforcer take any action? Why? They don't have power to take action against Ministers?

Similarly, it was reported that Klang Municipal council will not act to close down DZ Satay Restaurant until the Mentri Besar had issued an instruction. The reason given by MPK is that DZ is a stateassembly man and an UMNO chief; at such only the MB can instruct.

What stupid fuckers are they? They are empowered by the state constitution to perform their duties and no one is above the law, be ye ever so high. We can observed the fact that executive decisions are subjected to the approval of legislators.

So ACA is under the PM department, Attorney General is under PM's directive. May we also say that judges are also under the jurisdiction and direction of the PM? Where is the Rule of Law and the Separation of Power? Where is democracy and good government? Alas, it was elected by us Malaysian citizen; don't cry for me, Malaysia!!!