I couldn't resist the self so as to rest in peace. They wouldn't let me fade away in one piece too.
The last few days was a kind of self inflicted torture. Making the decision to hibernate blogging was tough but necessary as the amount of my workload piles up, and the job scope expands to seemingly behemoth levels.
In fact, when I wrote my own "epitaph", I can't even take myself to engraved the letter "R.I.P.". I chose to inscribe Hiatus ... but the whole intent at that point of time was to LAY-OFF in its entirety and then fade away. However, inside me, I know it was difficult to accept the decision. But I tried (and it didn't last).
The call from my buddies and pals to discard the decision was exalting and painful. Howsy blared and prodded me to reconsider. I was extremely delighted to read the first comment made on that posting, by a distinguised celebrity blogger,
Suanie
who pierced my heart when she said:
"i've always enjoyed your posts. when you have extra time to spare, do come back yeah.."
Thank you Suanie, I tried hard to hold back tho' I appreciated the call. Howsy, Wingz and Lucia wrote:
NOOOOOOOOOOO!!!!!
This extreme lengthy word was rather emotional and disturbing to me. It is as if something is gone for good. I am moved by the essence of closeness that associates with the groaning word. Many more other esteem readers had voiced their concern of my intended fading away - Lynne, Pak Adib, mmudahlupa, boringest, Desiderata, O2Deprivation, Helen, Kenny, AMoi, Whatalulu, Carboncopy, SeeFei, Nilesh, Louis, Prefer, Lin Peh, and AcidicSports. I must say, Thank you all of you or should I say, No thanks? (LOL).
I am expecially appreciative to read at Desiderata's blog that Howsy had in fact cajoled Desi to 'spruce' me up. Thank you Howsy and Desi.
In fact,
Howsy
was quick to blog about the issue. I was of course delighted to read his article on the following day..some kind of a headline in his blog:
The Departed Blog: Cakap Tak Serupa Bikin Calls It Quit?
It was so painful to read that, yet so comforting to know that in cyberworld, there is friendship and altruism ... there is life and a feeling of being wanted.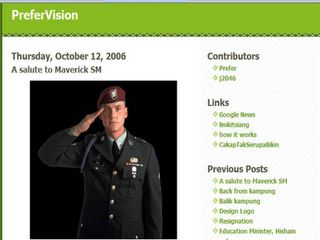 Yet another blog I visit gave me more ... it really bleeds my heart. This was
PreferVision
in his article heading on October 12:
A Salute to Maverick SM.
This piece really moved my spirit... it was hard to imagine that there is someone, out there in the blogsphere who would salute me, where I am just an unknown blogger. Truly I beg to differ that I do not deserved this salute; but I am extremely elated and it rekindled my heart as it made me felt wanted; that I should not let my esteem readers down, that I should continue, and give them something to cheer, even though what I wrote was crappy and insignificant. I take this opportunity to express my heartfelt thanks to PreferVision, for his citation was of such significance to me.
Actually, unknown to me, I stumbled again on another blogger,
Socialapathy
. On Saturday, October 14, 2006, he wrote on his blog heading:
[Quote] "Another blogger bites the dust. One of my favorite political blogger, Maverick has called it quits. I am going to miss you Maverick although we have never actually met each other before, your blog was to me, a sign that people do actually care about the tyranny of evil men. ...It is quite a sad day for bloggers like myself who blogs about NOT of our daily life but of more important issues affecting how we live, think and maybe how we ought to be as human. I know some of you guys will argue to the fact to blog was meant to share information, no matter what the info is. Unfortunately there are just too many blogs out there which have nothing to say but sadly attracts readers on an enormous scale because She/he is a hottie who puts up nude/semi-nude/provocative/sexy pictures of themselves ..."[Unquote]
Thank you
Socialapathy
! Thank you very much. What you wrote truly moves my spirit and emotion. I am deeply touched by the exalting words you penned. I am motivated by your writings and in fact, it is the penultimate reason why I re-start the essay writing.
Tho' I am back, I would not be writing as often as I had been. I need to balance my workloads and hobby. But I will write again, so as to be with all my cyber pals and buddies, and hopefully, not disappoint them in whatever way I do here. I will continue this journey, albeit in leisure mode.
Thanks to all of you who had rejuvenated my soul. God bless all of you.