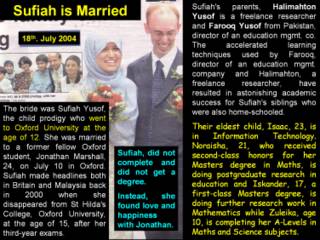 Sufiah

USE ACCELERATED LEARNING TECHNIQUES TO PRODUCE GENUIS
Adapted from the Article by Haliza Hashim-Doyle
TV Journalist and Freedom Writer based in London; Malay Mail, July 18, 2004.
Sufiah was only 12 years old when she was admitted into Oxford University to do her Degree in Mathematics.
Sufiah's parents, Halimahton Yusof from Johor is a freelance researcher and her father, Farooq Yusof from Pakistan, is the director of an education management company. Farooq use the accelerated learning techniques that had resulted in astonishing academic success for his children who were basically home-schooled.
Their eldest child, Isaac, 23, is in Information Technology. Noraisha, 21, who received second-class honors for her Masters Degree in Maths, is doing Doctorate research in education and Iskander at 17 already holds a First-Class Masters Degree, is currently doing further research work in Mathematics while the youngest Zuleika, age 10, has completed her A-Levels in Maths and Science subjects.
Sufiah made headlines both in Britain and Malaysia back in 2000 when she disappeared from St Hilda's College, Oxford University, at the age of 15, after her third-year exams.
The British police conducted a nationwide hunt while her family made emotional appeals for her return. Her disappearance erupted into a major controversy when she was later found by the police in Bournemouth, south England, but refused to return to her parents,
claiming that her father had been controlling her life with over-intensive academic tutoring and emotional abuse.
She was then placed with a foster family. In October 2002, Sufiah returned to Oxford University to complete the final year of her Masters in Maths.
Sufiah, however, did not complete the course and did not get a degree. Instead, she found love and happiness with Jonathan. She said they plan to move to London and have many children.
For the past year, she has been working as an administrative assistant for a construction company, while her trainee lawyer fiancée completed a legal practice course.
Looking at the children, we can't deny that Farooq had produced extremely successful results with his Accelerated Learning Techniques and his childrens' academic records are testimony of his educational project success. Probably, his only failure, that is, Sufiah the prodigy, is because of his stern unwavering desire to develop the world's youngest genuis at her teens. As a father, he has to suffer the consequence of his actions - his passion and ambition to prove himself as the new Einstein of our modern world.
She was married to her former fellow Oxford student, Jonathan Marshall, 24, on July 10, 2004 in Oxford. However, Sufiah's parents, Halimahton Yusof and Farooq Yusof were not present to witness the wedding. Sufiah's four siblings were also absent. She is only 19, and she will have to learn to grow up to be an adult and a mother someday.
Sufiah told a British newspaper, The Times: "Meeting Jonathan was the best thing that happened to me while I was at Oxford University," adding that her experience over the years had been "interesting".
The Times also quoted her as saying: "If you are surrounded by people your own age it certainly is different from being surrounded by people who are five years older than you. I can't quantify why exactly that is... It's just different."
Will she develop her talent further or resign herself to be a wife and mother?
Let's hope we have not lost a talent!